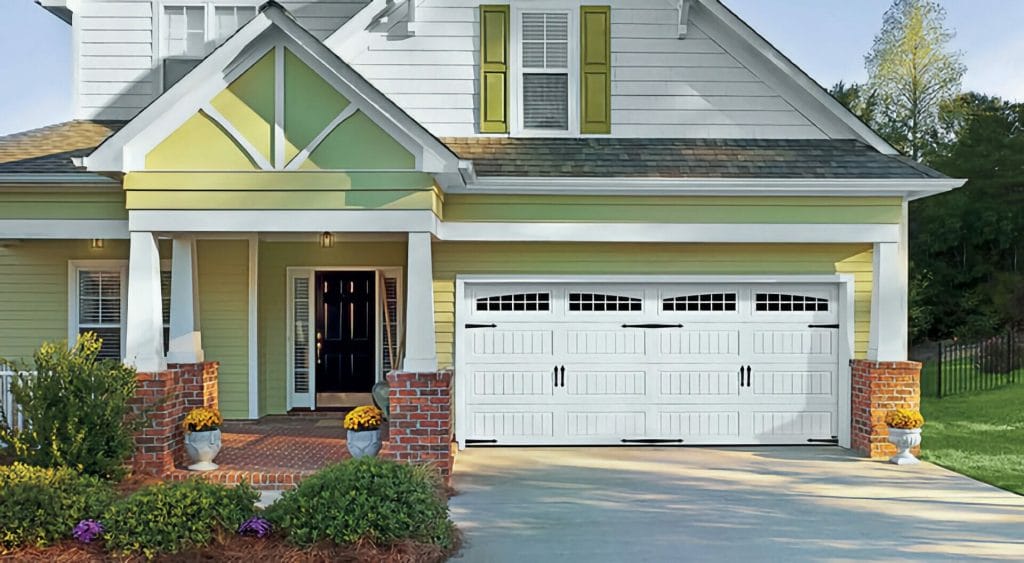 The Amarr Heritage Garage Door is a classic and timeless design that is perfect for any style of home. Built with heavy gauge, durable steel and available with single, double, or triple layer construction, this door is sure to last you for years to come. The door is further coated in a 5-layer paint system for added durability and is available in 8 different factory finished colors, including Amarr Color Zone which offers over 800 Sherwin-Williams colors to choose from.
To enhance the door's design, you can also choose from 9 DecraGlass window designs, double-strength obscure Frost, Dark Tint, or insulated glass options for desired visible light transmission (VLT). You can also add DecraTrim window inserts for a complimentary design to your home, as well as decorative hardware for a more enhanced carriage house door design.
For added protection, the Amarr Heritage Garage Door also comes with WindPro wind load reinforcement specifically designed to withstand high-wind pressures and meet local building codes. You can also add 2" polystyrene insulation for further protection, with insulated door R-values ranging from 6.64 to 9.05.
Finally, you can choose from 6 different colors, including White, Almond, Sandtone, Dark Brown, Black, Walnut, and Mahogany. With so many options to choose from, you can easily find the perfect look for your home. The Amarr Heritage Garage Door is backed by a manufacturer's Lifetime Warranty, so you can rest assured that you'll be getting the perfect garage door for your home.
Designs
Bead Board
Long Panel Bead Board
Recessed Panel
Short Panel
Long Panel
Flush Panel
Colors:
White
Almond
Dark Brown
Sandtone
Black
Walnut
Mahogany
Options:
WindPro Wind Load Reinforcement
DecraTrim Window Inserts
DecraGlass Windows
Insulated Glass
Obscure Glass
Frost Glass
Dark Tint Glass
Decorative Hardware