We would love to install your new garage door opener. Listed below are the models we stock in Modesto and Sonora, from basic to premium. Our sales team will walk you through the differences between the models, allowing you to make an educated decision. Keep in mind the California Law passed regarding required battery backups on garage door openers.
LiftMaster 87504 Next Gen
The LiftMaster 87504 is the best garage door opener on the market. It features a built-in camera which provides recording when any motion is detected and allows for 2-way audio. This allows secure in-garage delivery with Key by Amazon, eliminating package theft. The purpose-built, long-lasting LED system is engineered to deliver daylight lighting to every corner of the garage, allowing you to do more in the space. The belt drive system and DC motor provide for a smooth and ultra-quiet operation. This opener comes with a built-in WiFi system that allows it to be controlled from your smartphone through MyQ. The integrated battery backup ensures garage access even when the power is out. In short, this is the next generation of garage door openers and smarter home access.
Built-In 1080p Camera with 2 Way Audio
Amazon Key Compatible (No More Package Theft)
2,000 lumen 360° LED Light
Smooth DC Motor (Soft Start/Stop)
Integrated Battery Backup
MyQ Wi-Fi Capability (Smart Phone Control)
Ultra-Quiet Belt Drive
LiftMaster 84505R
Key Features:
Built-in camera adds video and 2-way audio communication to the myQ app.
Control, secure and monitor the garage with the myQ app- anytime, from anywhere.
Integrated LED lighting system with 1500 lumens of light.
Ultra-quiet DC motor and strong belt drive system ensures for comfortable living spaces near the garage.
Works with Amazon Key for convenient and secure In-Garage Delivery of Amazon packages and groceries.
myQ Diagnostics in the myQ app provides real-time insights for your garage door via the Health Report.
1080p, glare-resistant, night vision lens auto-adjusts to light levels in the garage to capture everything and anything that passes through the garage.
Easily connect to a home network with built-in Wi-Fi®.
Protect people and vehicles with safety sensors that stop the door from closing on obstructions.
The LiftMaster 84505R is a top-of-the-line smart garage door opener that brings security, convenience, and peace of mind to your garage. With a built-in camera, two-way audio communication, and real-time video streaming, you can easily control, secure, and monitor your garage from anywhere using the myQ app. The integrated LED lighting system, with 1500 lumens of light, brightens up high traffic areas of your garage, while the ultra-quiet DC motor and strong belt drive system ensure comfortable living spaces near the garage.
The LiftMaster 84505R also works with Amazon Key for convenient and secure In-Garage Delivery of Amazon packages and groceries, allowing you to watch deliveries happen in real-time. With myQ Diagnostics in the myQ app, you can get real-time insights for your garage door via the Health Report, receive alerts and error codes in the app if an issue arises, and connect with a professional for services if needed. The LiftMaster 84505R is the perfect choice for anyone who values security, convenience, and peace of mind.
LiftMaster 8160WB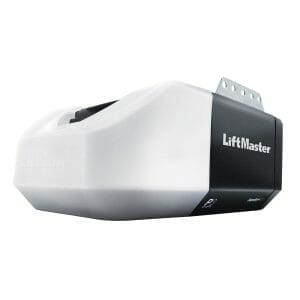 Smooth DC Motor
Integrated Battery Backup
MyQ WiFi Capability (Smart Phone Control)
Reliable Chain Drive
The 8160WB from LiftMaster features a chain drive system and an integrated battery backup. The DC motor allows quiet operation with a soft start/stop for smooth operation. It complies with California's SB-969 battery backup requirement. Built-in WiFi and MyQ integration allows a simple setup to control and monitor it from most smartphones.
LiftMaster 98022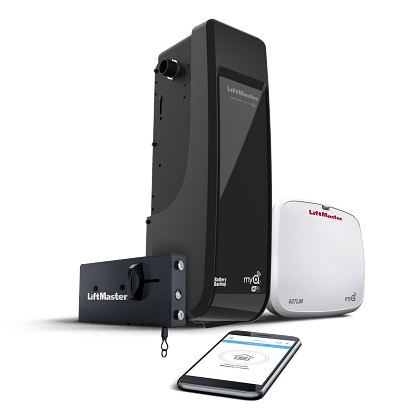 No cable tension monitor means easier installation.
Sleek and modern design frees up space in the garage.
Fast, smooth operation – even for tall and heavy doors. Nearly silent and vibration-free.
Remote LED lighting gives full garage light coverage. Ability to add up to sixteen 827LM remote work lights.
Battery backup ensures access in the case of power loss.
The LiftMaster 98022 mounts on the wall beside the garage door, freeing up valuable space in the garage and ensuring quiet operation. It comes standard with built-in WIFI, a remote MyQ LED Light, integrated Battery Backup, and an automatic deadbolt garage door lock. The 98022 helps reduce noise in bedrooms located above the garage.
The built-in WIFI allows this door to be monitored and opened from your smartphone through the LiftMaster MyQ app. This allows easy connection to services such as IFTTT, Google Assistant, and Homekit.
The 98022 also comes with a remote work light that can be placed anywhere in the garage. It lights up when the door is opened or closed and automatically shuts off on a timer.
Garage Door Remotes
Garage door remotes are available for all LiftMaster garage door openers. Different models through the years have different technologies, but universal remotes will work on nearly all of them. Garage door remotes can control up to 3 doors generally, depending on the model purchased. Often commercial or gate operators run on different technology than the residential garage door openers.
If your garage door remote stops working, it may simply mean the battery has ran out. We test and replace these all the time, and often it fixes the problem.
LiftMaster MyQ
Make your life easier with a smart garage! LiftMaster MyQ allows monitoring and control of your garage door from your internet connected devices. It also connects to your routines with Amazon Alexa, Apple Homekit, and IFTTT support. More smart home services are supported all the time with LiftMaster MyQ.
Monitor your door from anywhere.
Control lights and other accessories.
Built-in to new LiftMaster openers.
LiftMaster Accessories
There are many more products that will enhance your garage door opener's functionality. For example, we have little laser parking assists that mount next to your opener and provide an easy reference for parking in your garage. LiftMaster light controls allow easy control of an outside or garage light with the same remotes and MyQ technology. Outside keypads allow easy access for the whole family with a simple code. Battery backups, available for certain models, allow operation even when the power is down.
As a LiftMaster dealer, we are ready to help answer any questions about your garage door opener. Just give us a call!
For Warranty Information and Product Manuals, please visit the manufacturer's website or get in contact with us.